Rob Dubois - 'What the Hell is Smart Power?' at TED.

Rob wrote Powerful Peace. If you haven't read it, go get it. If you were to read only one book this year, this should be it.

Go on a journey, through a Navy SEAL's eyes, as he embraces the greatest distinctions between necessary evils, truths, peace, and the power of human nature. Rob Dubois believes, it is in our decisions that destiny is shaped. Nowhere is the cost of failure higher than in the life-and-death struggle of armed conflict. In Powerful Peace; A Navy SEAL's Lessons on Peace from a Lifetime at War, author J. Robert DuBois harnesses that real world sense of wartime urgency to guide our search for solutions to the most challenging problems. He takes on a crucial and unprecedented mission for a retired Navy SEAL: the relentless pursuit of interpersonal and international peacemaking as an imperative for global security.
Hands down the best part of "Band of Brothers" - Major Richard "Dick" Winters
Dutch filmmaker in the killzone
Filmmaker Vik Franke is in the final stages of producing a documentary on a group of US special forces. Franke was embedded with the commandos while they were hunting Taliban fighters in Afghanistan. The film, On Killing, gives a unique view into the lives of the men who carry out America's most dangerous military operations, like the recent killing of Osama bin Laden.

- Mike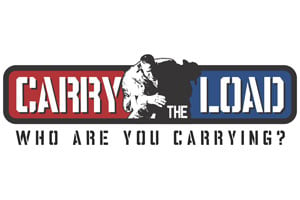 Carry The Load is a 20-hour Memorial Day event honoring and thanking members of the military, law enforcement, firefighers and their families for the sacrifices they make.
Your Sacrifice Not Forgotten.

A 1st Marine Division Association member views the newly constructed memorial at Camp Pendleton. The memorial was funded by rotary clubs and commemorates the Marines who have given their lives during the wars in Iraq and Afghanistan. The memorial was unveiled in conjunction with the 71st annual colors ceremony commemorating the creation of the 1st Marine Division.

(U.S. Marine Corps photo by Lance Cpl. Sean Searfus, 1 February 2012 via DVIDS.)
We've been "geekin" about Mosin Nagants lately (I know, who isn't?) and our new shirts prove it! Currently our stuff is a little heavy on the Russian tip, but more designs are in the works, stay tuned!
A UH-60 Black Hawk lands in the Jani Khel district April 14 to extract paratroopers assigned to 3rd Battalion (Airborne), 509th Infantry Regiment, during Operation Marble Lion.
Via the US Army G+ page